You have probably spent years imagining the perfect wedding.
There's a pretty good idea about your dress, you have a theme and you can visualise the decorations.
You want the perfect pictures but you also want videos. Unfortunately, getting it all can be costly. You may be left deciding whether you're going to hire a photographer or a videographer for your wedding.
It's not impossible to get everything if you do a bit of smart planning.
While the cost of wedding photography and wedding videography can reach a pretty hefty sum, there are opportunities for reducing the expenditure.
Before doing anything and seeking out a professional, however, you'll have to decide exactly what you want.
Some couples give up the hiring of a videographer for weddings. Some agree to a limited scope of professional pictures to bring down the cost of the service.
In some instances, couples choose to have the entire wedding photographed by their friends and other attendees.
There really isn't a right or wrong choice. The only thing that matters is making a decision that you are not going to regret in the future.
Photography vs. Videography for Weddings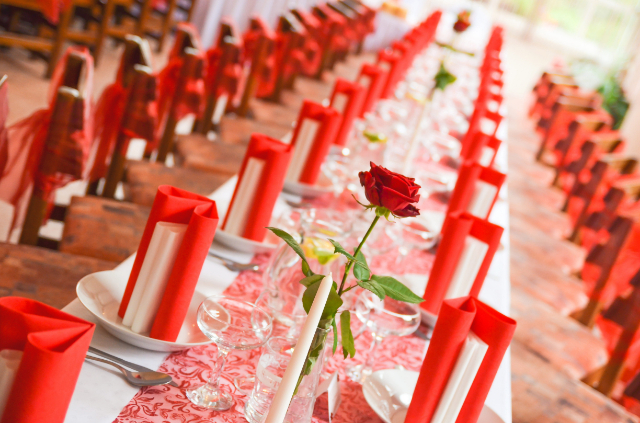 One of the easiest things you can do to make up your mind is examine the pros and cons of hiring each type of professional for your wedding.
A wedding photographer can be present throughout the entire day, capturing pictures of the most important and candid moments.
It's up to you to decide how many pictures you'll have, whether you want to have a staged photo session and if the photographer is going to be present throughout the day. You will also need to discuss the style of the pictures and the amount of editing to be done.
As great as professional pictures are, they cannot capture every single moment.
The beauty of the first dance, for example, can only be replicated on video.
A wedding videographer will work with you in a manner similar to the photographer. There will usually be multiple wedding video packages to choose among.
The most inexpensive ones will give you the shortest outcome and the videographer will be present for a limited time period. Costlier packages will include some extras like a longer video, more special effects, a teaser video you can share on social media and others.
To get comprehensive and detailed memories of your special day, it would be best to hire both a wedding photographer and a videographer.
If you cannot afford partnering up with both professionals, however, you will have to go through several considerations to make up your mind.
Most Couples See a Photographer as a Must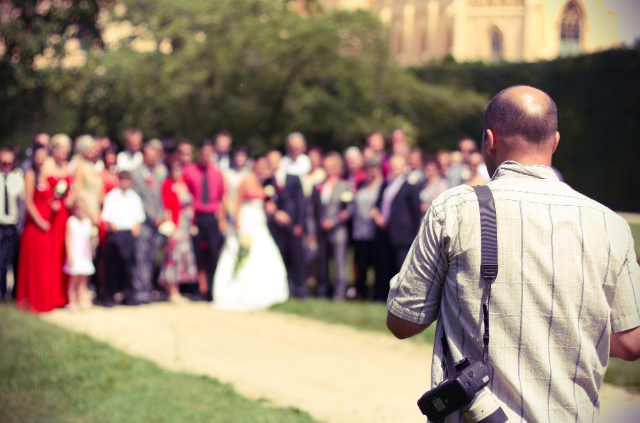 In the realm of wedding planning, professional photography has started being perceived as a must-have service.
When they have to eliminate photography or videography, the overwhelming majority of couples will get rid of the professional video.
Pictures have long been seen as the perfect memento. They're tangible (if you get prints or an album) and they capture a very specific moment. In addition, photos have been around much longer than videos have. As a result, we've internalised them as essential records of an event that we really need to have.
While most couples organising a wedding on a budget will give up the videography, studies suggest that they regret doing so.
A Wedding & Event Videographers Association International (WEVA) study that 98 per cent of the brides that didn't get professional videography ended up truly regretting the decision.
It's also interesting to point out that many couples understand the true value of video only after the wedding is over.
Of all surveyed brides, 38 per cent did not have their wedding video-taped in any way (even by the attendees). Of these women, 63 per cent say that they'd recommend the hiring of a professional videographer to future brides.
Can You Have a Wedding without a Professional Photographer?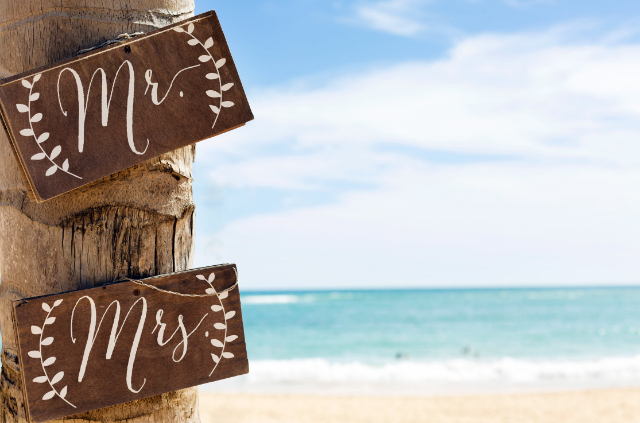 The short answer is yes!
Norms in the field of wedding planning are changing.
Many couples are looking for alternatives to traditional wedding planning and service provision.
While the number of people who refrain from hiring a professional photographer is still small, this is already happening.
If you do a bit of online research, you'll come across dozens of topics and forum posts inquiring about couples skipping professional wedding photography.
When this happens, couples turn picture taking into a fun wedding activity that everyone can engage in.
Providing guests with disposable cameras that create instant pictures is one really fun idea that has taken over. On top of that, everyone has a phone. There have even been experiments by professionals who have captured entire wedding with an iPhone. The results are often quite impressive.
While there probably will be some quality issues, you will have a huge variety of snaps to choose among, chances are that at least a few attendees have an artistic eye that has allowed them to capture spectacular pictures.
For easier sorting, you can suggest the use of a social media hashtag or a cloud storage option. If all guests go through the labelling and the submission as requested, the bride and the groom will end up with hundreds, potentially even thousands of pictures.
Is It Possible to Get Both and Save Money?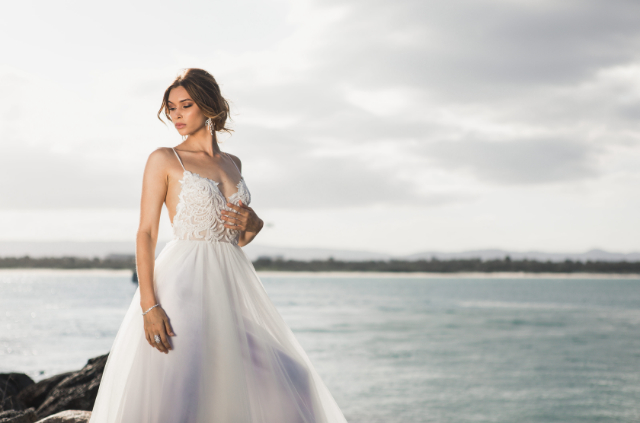 Working with both a photographer and a videographer for weddings is a dream come true but it can be costly.
If you are really enthusiastic about capturing your wedding in all ways, there are several things that can help you reduce expenditure.
The first and the simplest thing you can do is hire one and the same person to do wedding photography and videography.
While photographers aren't always experienced cameramen when it comes to creating a film, many videographers can create beautiful pictures. Choosing such a package and entrusting the same professional with both tasks will result in a serious price reduction.
Another simple way you can reduce the cost is to limit the amount of time that professionals spend at the wedding.
You can, for example, have a photographer and a videographer for weddings present during the preparations and the ceremony itself. Once the party starts, guests can take over with the creation of pictures and clips.
The time on the job is one of the most important factors that will contribute to a costlier service. Reducing the number of hours will give you a dramatic price cut that will be in line with your wedding budget.
As a general guideline, you shouldn't spend more than five to 10 percent of the wedding budget on photography and videography services.
How to Make the Decision?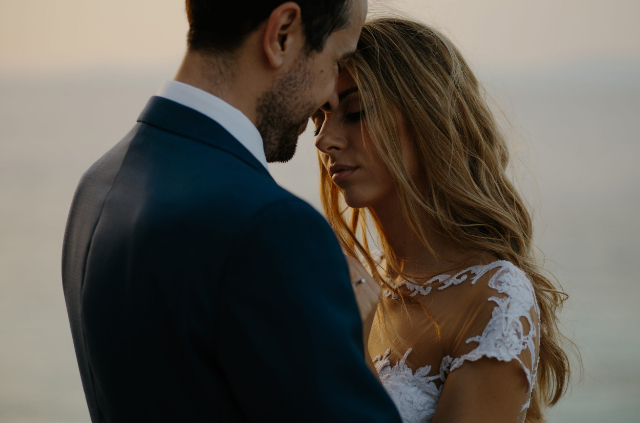 In a perfect world, you'll get everything that you want for your wedding. Unfortunately, the fairy tale doesn't happen for everyone.
If you have to choose between a photographer and a videographer for weddings, ask yourself a few important questions.
The first one is what amount of money can you allocate to photography and videography. The second one is whether the amount would be sufficient to hire two professionals instead of one.
Next, do some research to see what local photographers and videographers have to offer.
What does the specific service include? What number of pictures will you get as an outcome? Can a videographer give you some bonus professional pictures?
Even if you're not confident that you can hire both professionals, get multiple quotes from both photographers and videographers.
Get quotes from both highly popular professionals and brand new studios. People who are just getting started with their career will be willing to give you a much more attractive offer.
Having such diversified quotes will help you establish a price range. Having the highs and the lows, you can now determine if you're going to get both and which service you're going to spend more money on.
It's a really big decision and evaluating the pros and cons of each option will make it a bit easier to eliminate emotions from the equation.
Conclusion
Start thinking about wedding photography and videography early enough.
If you rush in the last moment, you will potentially make a decision that you'll regret later on. Also, the price of such services tends to get higher the closer you are to the actual wedding date.
Prioritise the solutions and the visuals that match your wedding style in the best possible way.
A casual wedding can easily benefit from a bit of professional photography and video clips created by the guests. Brides and grooms who want to make everything intimate and small can easily skip on both services.
There are no right or wrong answers when it comes to planning your dream wedding.
This is your big day.
You are in charge of every single element, even when you feel financially pressed.
Do share the situation with your parents and discuss it with your partner in depth. If you open up to others about your struggle, chances are that some kind of solution will materialise itself and give you the wedding that you've always wanted to have.
Looking for a wedding video editor?
Get a free quote within 24 hours!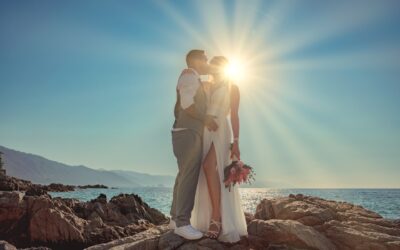 It's not just wedding clients looking for the ideal photographer or videographer. Professionals have to go through the same process in order to book events consistently. So, do you know who your ideal client is? Even more importantly, do you know how to reach out and...