Wedding video production is all about giving clients a smooth, seamless and beautiful result. Videographers know the importance of post-production and steady footage to get such results. Keeping these general rules in mind, is it possible to incorporate GoPro action footage into the wedding video?
The answer to this question depends on several factors.
The first and the most important one is the preference of the bride and the groom. A wild couple that enjoys outdoor activities and wedding ceremonies straying from the traditional could be happy with action footage.
Even if this is the case, you'll need to be careful during editing process. Integrating the action footage into the clip can be a very difficult task.
Best Uses of GoPro Action Shots
If you have to create a film during a formal, black tie wedding, GoPro shots will probably be out of the question.
This type of footage is more suited to informal events.
GoPro cameras can be used to accomplish several things.
The first and the most obvious benefit is the capturing of action shots. A GoPro camera, however, can be used on a drone to create aerial footage, it can add some beautiful appeal to outdoor wedding videography and it can even be used for cutaway camera work.
If you've ever checked out GoPro videos online, you've probably been surprised by the production value. Here's just one example of an outstanding film created via the use of an action camera:
These results are obtained through careful planning and a lot of editing work. As you can see, GoPro footage can really look incredible if you know exactly what you're doing during every step of wedding video production.
Use a Mount
Unless you're using a GoPro camera for aerial videography through the use of a drone, you will need some kind of mount.
The market features hundreds of different compatible mounts. These simple products are sufficient to reduce the risk of shaky footage, even in the event of action-packed shoots.
Chest mounts are quite popular. These are used to still get that first-person point of view without having the camera going all over the place. You can even equip the bride and the groom with such cameras during parts of the ceremony to represent their perspective in the wedding video. Such shots will be incredibly emotional and unconventional.
Remember That a GoPro Camera Has Fixed Lens
Knowing the specifics of your videography equipment will enable you to yield the best possible outcome each time.
A GoPro camera is this small due to the fact that it has a fixed lens. This means it's not a professional camera. It will work well in outdoor settings and in good light. In other circumstances, however, the quality of the video will be questionable.
Some of the GoPro cameras allow for basic adjustments like modifying the ISO or the frame rates. Keep in mind, however, that such adjustments can only be made via the camera app. If you're running around and trying to capture wedding footage, chances are that you can't dedicate 10 minutes to accessing the app and experimenting with adjustments.
Thus, you should consider the GoPro camera a type of as-is videography equipment.
Come to the wedding venue or the outdoor location in advance and do a test run. Depending on the weather and the light conditions, you may have to give up on the GoPro or you may have to consider additional light sources.
Use the GoPro to Find a New Wedding Video Production Angle
There's really no need to use a GoPro camera when a regular one will suffice.
Find a new angle or some unusual perspective. Use the small size of the camera and its ability to capture action footage. This equipment gives you a chance to completely transform the art of wedding video production. Use this ability to your advantage instead of attempting to compensate for what the GoPro is missing.
Even the way the GoPro camera is strapped can affect the quality of the film.
A GoPro camera strapped on one's chest results in more dramatic and unusual footage than having the camera mounted on a helmet, for example.
Tell the story entirely from somebody's perspective. Here's an incredibly cool GoPro wedding video that shares the perspective of the lucky couple's pup:
There's one more interesting feature you may want to experiment with. It's available in newer GoPro camera models. These GoPros offer an array of preset crop modes like the ultrawide 170-degree angle. Test it out – it can create a really beautiful and scenic wedding video opening.
Touch-to-zoom functions are available in some models to give a similar experience to that of traditional lens. Pairing the functionality with the specifics of the GoPro allows you to go as wild as you want to be (just remember to have a standard camera backup in the event of something going wrong).
Post-Production Matters a Lot
Editing is very important for quality wedding videos but it happens to be even more crucial when you're using an action camera.
GoPro cameras still have one big shortcoming – the lack of optical zoom.
You can compensate for this issue by shooting in 4K and editing the wedding video in 1080p. Once again, the newer GoPro models support 4K footage creation at 30p option. When you create such footage and you import it in a 1080 timeline, the native resolution is more than two times the size of the canvas. You will have a bigger picture than what's required to get rid of some edges or blurriness.
This editing scenario allows you to scale both up and down (if you want to feature the entire frame or focus in on a detail). As a result, you benefit from massive flexibility and you can give your clients a steady and beautiful outcome. Something like this one:
If you're not confident in your ability to do the post-production work on your own, get in touch with an experienced team. Outsourcing post-production makes a lot of sense because you'll get a beautiful outcome due to the knowledge and the experience of the professionals who'll be handling the editing.
Looking for a wedding video editor?
Get a free quote within 24 hours!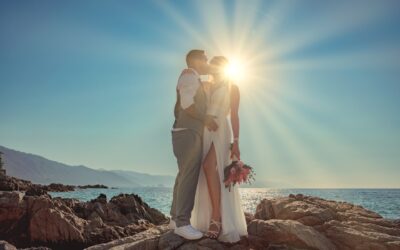 It's not just wedding clients looking for the ideal photographer or videographer. Professionals have to go through the same process in order to book events consistently. So, do you know who your ideal client is? Even more importantly, do you know how to reach out and...