Capturing every special little moment in a wedding is going to be challenging, even if you have multiple videographers at the venue. When clients want a documentary-style wedding video, you may have to rely on some alternative approaches.
Modern wedding video tips state it may be a good idea to use smartphone clips created by the guests or the bride and groom themselves. While this approach poses some challenges, it also provides great opportunities. What does it take to integrate smartphone clip footage seamlessly in a wedding video? The following list of wedding video tips will help you find out.
When to Use Smartphone Clips
The wishes of your clients will be determining for the integration of amateur footage into a professional clip. You can use smartphone footage in a number of ways. The videos can be sprinkled throughout the professional clip or you can create a special segment dedicated to the amateur videography.
What matters is coordinating such decisions with the couple and making sure you know exactly what they want. Couples that want a sophisticated, cinematic-style wedding video aren't going to be too impressed with the inclusion of amateur footage in the final outcome.
If the bride and groom are adopting more of a casual approach towards wedding video creation, they'll probably like the idea. If you're confident your clients want to use amateur footage, you can use the following approaches for its seamless integration in the video.
Wedding Video Tips: Create a List of Shots You Need
Drafting a checklist of shots to be included in the wedding video.This way, you will get a better idea of the work that needs to be done. If you cannot handle all the work yourself, you can choose some smartphone footage by guests. Candid and intimate moments are the ones you may find most difficult to capture.
For example, the mom of the bride could use her smartphone to create footage of a little conversation she has with her daughter before the wedding. The bride and groom can do a cute selfie after the ceremony and the reception are over. Here's an example of a beautiful wedding video that has been shot by an amateur. The absence of a professional approach does make the clip unique:
It's also difficult for a videographer to capture all aspects of the reception because they'll be mainly focused on the bride and the groom. Clips created during the party will add a nice little nuance to the video. You will great to recreate the atmosphere and the fun that people had while celebrating the love of dear friends.
Incorporating Smartphone Shots in a Professional Video
You need smooth transitions to make your wedding video flawless. Switching between professional shots and amateur footage will make for a shaky, abrupt experience. There are many ways to include amateur videos naturally in the final product.
You can break the wedding video down into separate chapters. Each chapter will have a title frame, followed by a brief smartphone clip that summarizes the essence of the section. Next, present the respective professional footage as it related to the topic. A separate section of fun smartphone shots added in the end of the professional video or while some humorous credits are rolling can also be a great touch.
The key here is to select the right editing and post-production approach. While you have some idea about the content and the order of shots, you may find it very difficult to put different types of footage together. Professional specializing in wedding video editing and post production will take the final outcome to the next level.
Get Guests Involved in the Process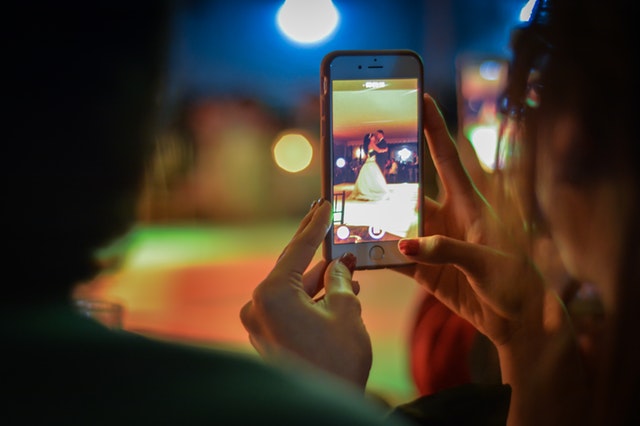 If your clients are ok with this idea, you can get the wedding guests involved in the video creation right from the start. Tell the wedding party that you're looking for special moments captured on smartphone.
These special moments could include wishes or addresses from friends, behind the scenes footage or clips that don't necessarily focus on the bride and the groom. Getting the guests involved will give you access to different perspectives. In the end, you can put together a beautiful mixture of sights, sounds, angles and approaches to wedding video clip creation. The absence of coherence could be the one thing that results in a unique wedding video..
Don't Overdo It!
The list of wedding video tips will end with the simplest and probably the most important one – don't overdo it. If you ask guests to get involved, you will probably receive hundreds of submissions. You cannot feature all of the smartphone footage in the professional wedding video.
Some of it will be redundant, some will feature too poor of quality to make the final cut. This is why you need a preliminary concept. You can simplify the editing process by knowing the shots you need. Next, determine who will be responsible for the creation of these shots.
Select a few standout clips and incorporate those in the wedding video the way you intended to right from the start. If you have doubts, talk to your clients. It's definitely best to make sure with them than to give them a wedding video that doesn't truly capture the heart and the soul of the celebration.
Creating Smartphone Video as a Professional
One final note to remember is that as a videographer, you can also make use of smartphone videography. There are numerous great examples of beautiful, professional clips created with a mobile camera:
This is a somewhat of an experimental approach and your clients should be ok with it. In addition, you need to have in-depth knowledge of your smartphone's capabilities. These devices aren't too good in poor light, hence you may want to rely on them for outdoor portions of the video creation.
Rules aren't set in stone when it comes to creating the perfect wedding video. Some clients will have unusual requests and that's ok. Such unusual requests create exciting opportunities for videographers that should definitely be embraced. Don't be afraid of a project taking you out of your comfort zone – this is how magic happens.
Looking for a wedding video editor?
Get a free quote within 24 hours!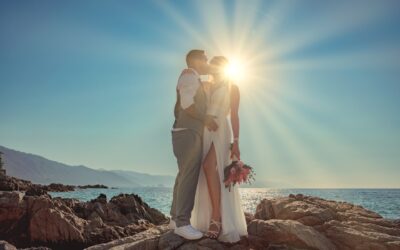 It's not just wedding clients looking for the ideal photographer or videographer. Professionals have to go through the same process in order to book events consistently. So, do you know who your ideal client is? Even more importantly, do you know how to reach out and...