Your wedding video camera is the most valuable piece of equipment that you possess. Protecting it in the best possible way will ensure the longevity of your camera and enable you to do a good job for clients.
As a wedding videographer, you know that you'll often have to bring multiple cameras and lenses to the venue. Having the right case or carrier bag will simplify the process while simultaneously protecting your valuable equipment.
If you're wondering about the best bags and cases for wedding video cameras, you have come to the right place. Today, we will take a look at some of the best options the market has to offer.
Choosing the Right Case for Your Wedding Video Camera
A couple of considerations outrank the others in terms of assessing the quality of a wedding video camera case or bag.
For a start, you need to have a good idea about the type of camera and the camera equipment you'll be carrying on a regular basis.
The market offers different products for carrying DSLR cameras, camcoders and professional video cameras. In addition, some of the cases can accommodate for additional lenses, lights and tripods.
Next, determine what style suits you best. Do you want a backpack? A messenger-style bag? A camera roller bag that doesn't have to be carried around?
Think about the amount of time you're going to spend at the wedding and the weight of the equipment you'll be carrying. In addition, a high quality case should be easy to open, allowing the effortless retrieval of the equipment that you need.
Additional Considerations
A couple of other important considerations include:
Your budget – How much money do you feel comfortable spending on a camera bag?
Will you be using specialised equipment like a drone (there are special cases and carrier bags for such gadgets)
How heavy the bag is (there are numerous lightweight, durable materials on the market right now, so you shouldn't settle for a heavy option)
The availability of internal pads to protect sensitive optical equipment
High quality zippers are an absolute essential (and you may also think about a camera case that has a padlock or another security feature for added safety)
The conditions you will be filming in – If you're going to attend lots of outdoor weddings, opt for waterproof and weather-resistant materials
Comfort features – Padded straps, ergonomic back support for backpacks, even weight distribution
A sufficient number of pockets and compartments for the carrying of accessories
Keeping these important considerations in mind, let's explore some of the best camera bags and cases for professionals available on the market today.
Billingham Hadley Pro: A High Quality Shoulder Bag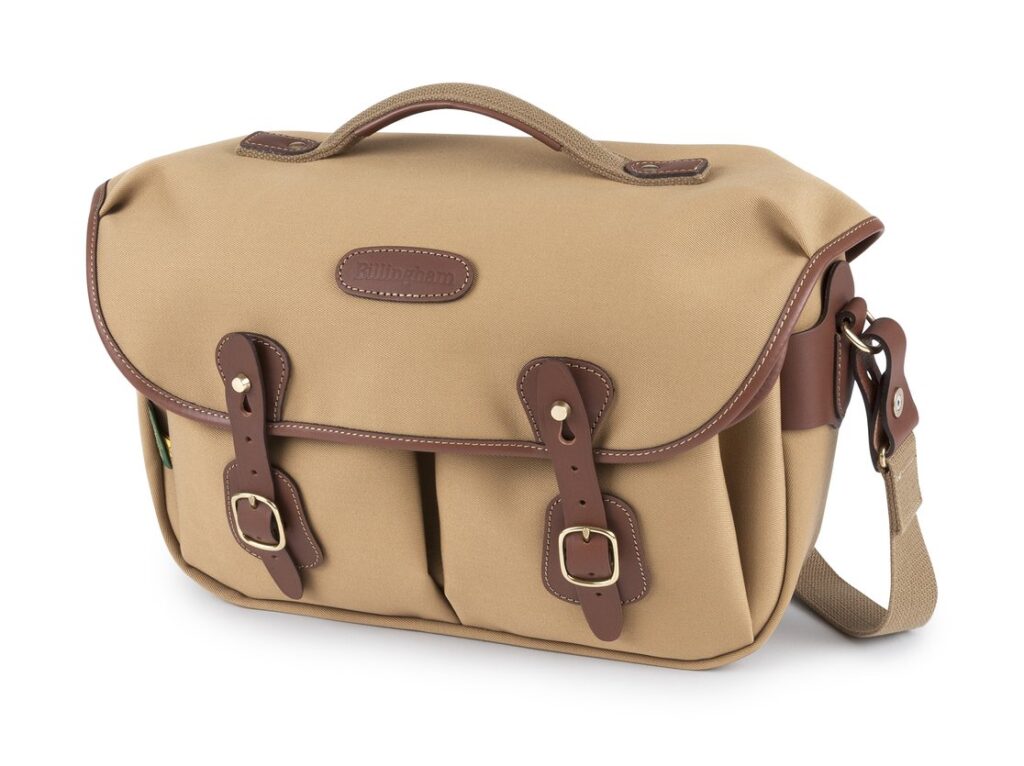 If a shoulder bag is your thing, you'll be happy with the Billingham Hadley Pro.
There are two materials to choose among – canvas and leather. In addition, the bag is available in numerous colours. The bag's capacity is six litres and it measures 15.2 x 27.9 x 38.1 centimetres.
Some of the best Billingham Hadley Pro characteristics include:
Excellent for both DSLR and CSC cameras
Sufficient space for up to three additional lenses
The bag comes with a separate laptop or tablet compartment
An integrated carrying handle with a stiffener
The weight of the equipment is supported by a fiberglass stiffener attachment
The bag is equipped with a waterproof back pocket
Fully removable inserts and dividers, allowing you to customise the internal space
Adjustable quick release straps and buckles
One of the main things that differentiates this carrier bag from other cases for cameras is its slim design. Many wedding videographers avoid messenger bags because they tend to be quite bulky and impractical. This product is quite different and it's not going to interfere with the work you have to because of its practical design.
As far as shortcomings go, there aren't many complaints about this wedding video camera bag. One thing that buyers are unhappy with is the lack of shoulder padding. If you opt for this bag, you'll need to find a solution that will keep the bag from cutting into your shoulder.
YuHan Oxford Large Capacity Camera Backpack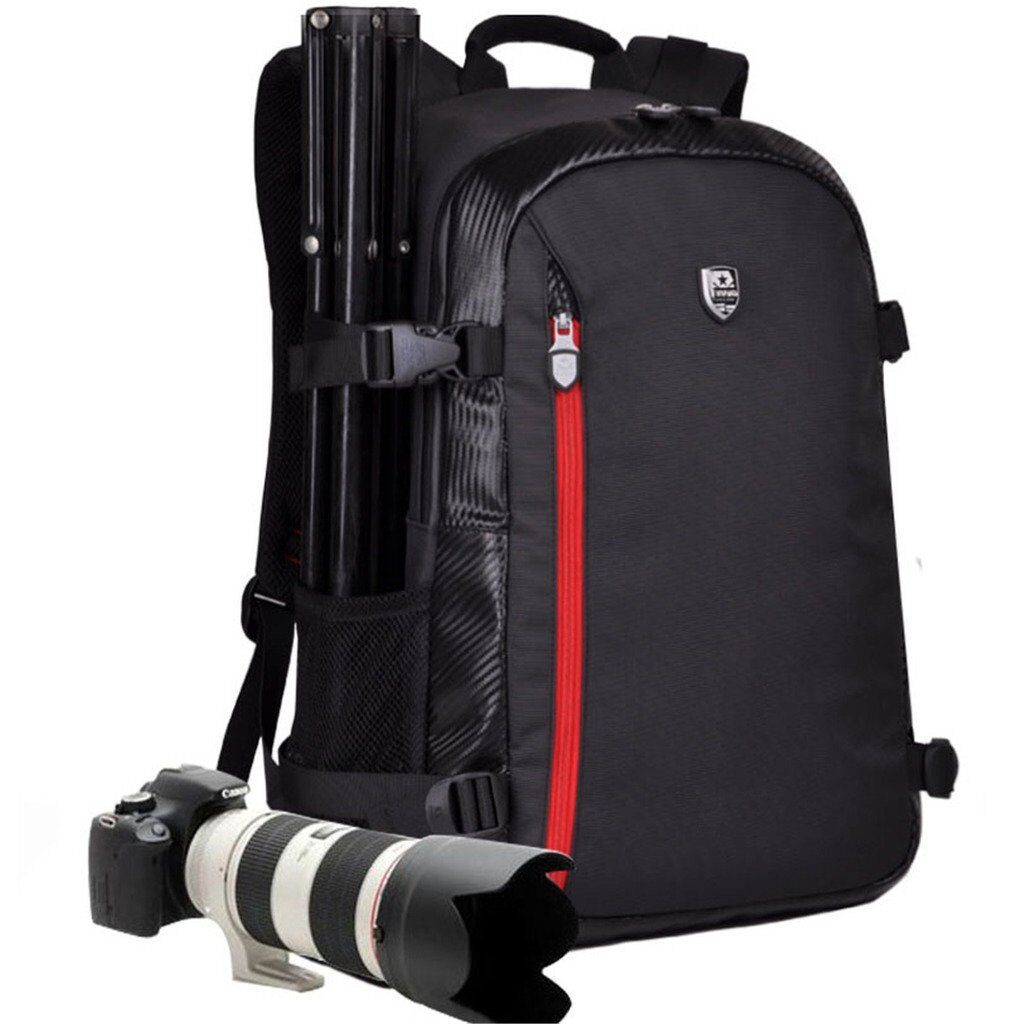 Those who prefer a backpack should definitely check out the YuHan Oxford Large Capacity Camera Backpack. It's a large capacity item that measures 30 x 45 x 19 centimetres but its weight is only 1.5 kg.
Apart from being very comfortable and ideal for carrying heavy equipment, the backpack brings a couple of additional benefits to the table:
Completely waterproof and ideal for outdoor shoots
8 removable and adjustable Velcro-taped cushions to create your own inner space that corresponds to the specifics of the equipment you're going to be carrying
Anti-shock design to protect your camera and lenses
The padded interior can be removed so that you can use the product as a regular travel backpack
Fully adjustable and padded straps
Made of high quality, durable Oxford material
This backpack has received overwhelmingly positive reviews. There are some people who have been using the item for a couple of years and it is still going strong.
As far as complaints go, some photographers would like to have a couple of additional external pockets and some have complained about a difficulty in adjusting the dimensions of the inner compartments.
Neewer Convertible Rolling Camera Backpack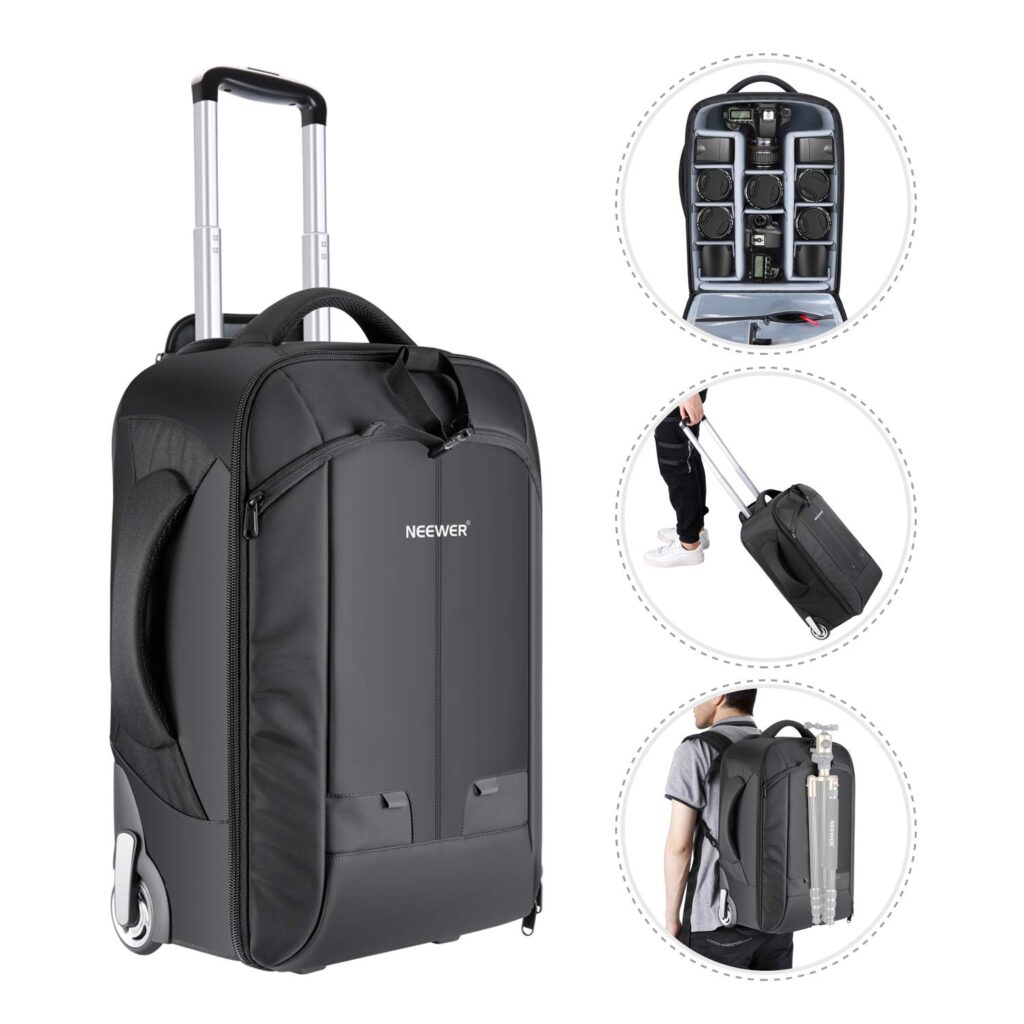 As far as camera rollers go, this is one of the best-sellers on the market. The Neewer Convertible Rolling Camera Backpack is quite big – it measures 35 x 26 x 55 cm. The design is very versatile and it allows the carrying of numerous types of equipment on top of the camera.
Here are the Neewer Convertible best characteristics:
Can change from a rolling case to a backpack
Apart from the camera compartment, there are 11 additional customisable compartments
Can load a full DSLR camera body with the lens attached
An additional laptop or tablet storage compartment
Comfortable and practical telescopic handle
Fully waterproof design (a rain cover is included in the kit)
Adjustable padded shoulder straps are also incorporated in the design
Made of durable and lightweight nylon
There's a front pocket, as well as side straps for the attachment of a tripod
Two small partitions for memory cards
The only complaint about this item is that a wheel cover isn't available. This could be a bit of a problem whenever the roller is used as a backpack.
Max Case Waterproof Protective Hard Camera Case with Foam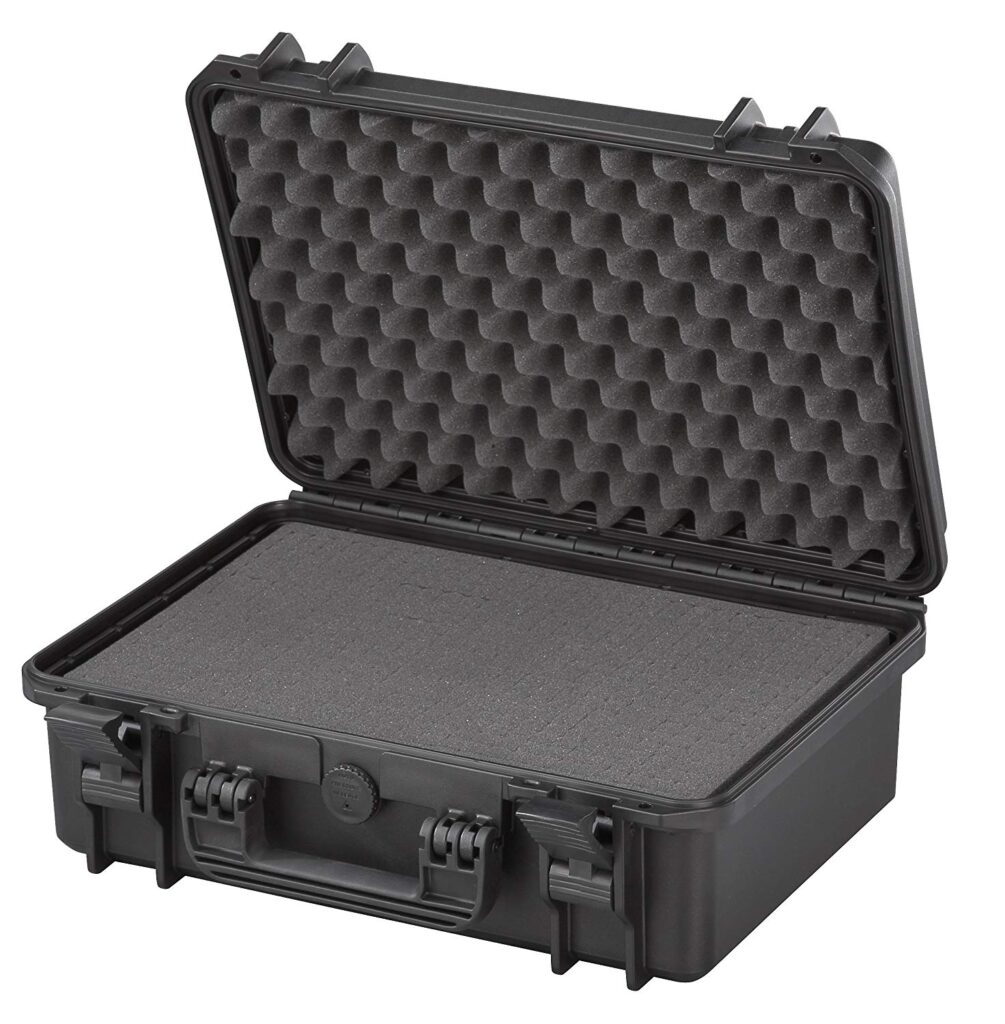 There are some cases you can use just to bring your equipment to the venue (a passive carrier that you're not going to have on you throughout the day).
This Max Case Waterproof Hard Camera Case is an excellent choice if you want something truly rugged.
The case measures 46.4 x 36.6 x 17.6 centimetres and its capacity is 20 litres. It's a pretty big item that can carry even a big professional camera.
Let's check out the biggest advantages of this case:
Dustproof and waterproof
The product has been tested under water (at a depth of one metre) for a period of 30 minutes and the water seal remained intact
Antishock design
Watertight seal around the lid + two padlockable holes
There are two sheets of cubed pick and pluck foam to protect optical equipment
The foam inserts have fine cubes, which means they can be adjusted to protect all kinds of equipment
Load-tested soft grip handle
Heavy duty clasps
One of the complaints about this product is that it lacks wheels and has to be carried.
Mantona New York Photography Bag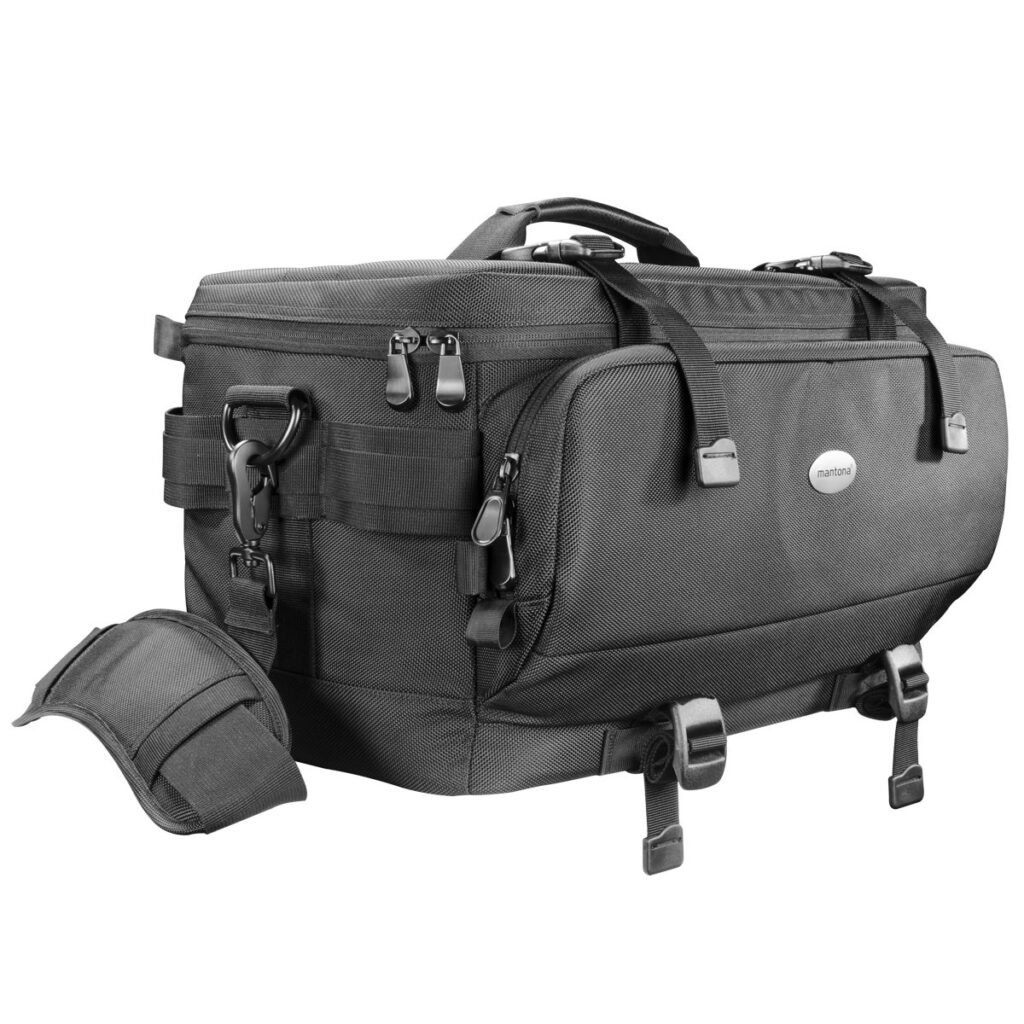 The final item in the list is the Mantona New York Photography Bag.  Lightweight and quite versatile, the item is ideal for a professional wedding video camera and for the key accessories.
Mantona New York Photography Bag measures 47 x 31 x 27 centimetres and its weight is under two kilograms.
The best characteristics of the bag include:
Can carry a DSLR camera and up to four lenses + accessories
Six Velctro-fastened adjustable cushions inside to customise the space
Padded walls to absorb shock
There's one document compartment in the back
Wide rubberised shoulder straps for added comfort
There's also a reinforced carrying handle
Tripod fastening available on the underside of the bag
Integrated rain protection
Complaints focus on the absence of a laptop compartment – The only thing that is missing to make the design of this bag optimal.
Conclusion
Your wedding video camera carrying case plays several important roles. It protects your equipment and it also ensures effortless mobility throughout the wedding day.
Take some time to research options and compare their characteristics side by side. Bags and cases are not created equal. Some will outperform others both in terms of safety and longevity. Thus, investing a bit more in a high quality item makes sense because it is going to save you money in the long run.
Do consider the purchase of a couple of bags and cases. Large capacity rollers and smaller backpacks will make it easy for you to bring the exact type of equipment that you're going to need to do your job at the wedding.
Looking for a wedding video editor?
Get a free quote within 24 hours!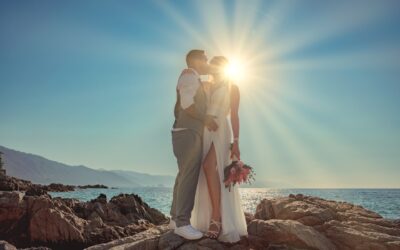 It's not just wedding clients looking for the ideal photographer or videographer. Professionals have to go through the same process in order to book events consistently. So, do you know who your ideal client is? Even more importantly, do you know how to reach out and...