Wedding photo and video shoots have just gotten a little bit more complicated again. Since the start of last year, many processes and traditions have had to be altered and post-poned. Weddings were one of the events seriously affected by the lockdowns and social distancing measures.
We went from a complete ban on events in the beginning of 2020 to gatherings featuring just a few guests as of February 2021. Zoom weddings gained popularity and they're probably here to stay as the world is preparing for a second Covid-19 wave.
Currently, most parts of the world allow small wedding ceremonies attended by a few guests in a sufficiently big venue.
Wedding photographers and videographers attending such events need to be familiar with some safety essentials. Carrying out photo and video shoots in a world after lockdown brings on the need for some new measures that are very important for everyone involved.
You Have the Right to Say No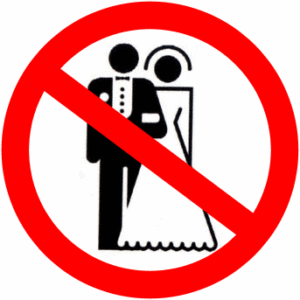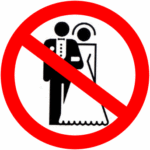 We are living in tough times. The entire world is going through a transition and some instances make it more difficult to accommodate for required safety measures. This is true for weddings and other mass events. Depending on the number of attendees, controlling the crowd can be difficult.
As a professional, you have the absolute right to say no to wedding photo shoots and video shoots that make you feel uncomfortable.
Needless to say, the situation is also difficult finance-wise. You will probably feel tempted to take on any job that comes your way. At the same time, you should be prioritizing your health and well being.
If your clients are asking for something that feels potentially unsafe, you are entitled to voicing your objection or turning them down altogether.
For example, shooting a relatively big wedding taking place at a small venue is not safe right now. And you're not the only professional who will reject participation in such an endeavor.
Let your clients know such a set up is not acceptable for you (and it shouldn't be for them, as well). If they are keen to work with you, some sort of compromise could be worked out.
Discuss Wedding Photo Shoot Essentials with the Bride and Groom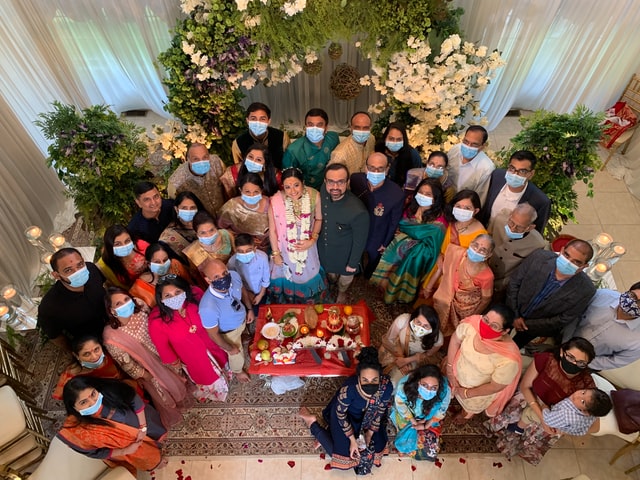 It's important to discuss all aspects of the photo and video shoot with the bride and groom in advance. Right now, you also have to focus on safety as a part of the preliminary talk.
Do inquire about the venue, whether you'll be doing an indoor or an outdoor shoot and what the number of attendees is going to be.
You also need to know the safety and social distancing measures introduced at the venue itself. These could make it a bit more difficult to get around and to capture the special moments.
Going to the wedding venue before the shoot itself will give you a lot of clarity. It's also a good idea to do a test with the couple, making sure you've worked all of the essentials out before the big day arrives.
Use the Right Safety Gear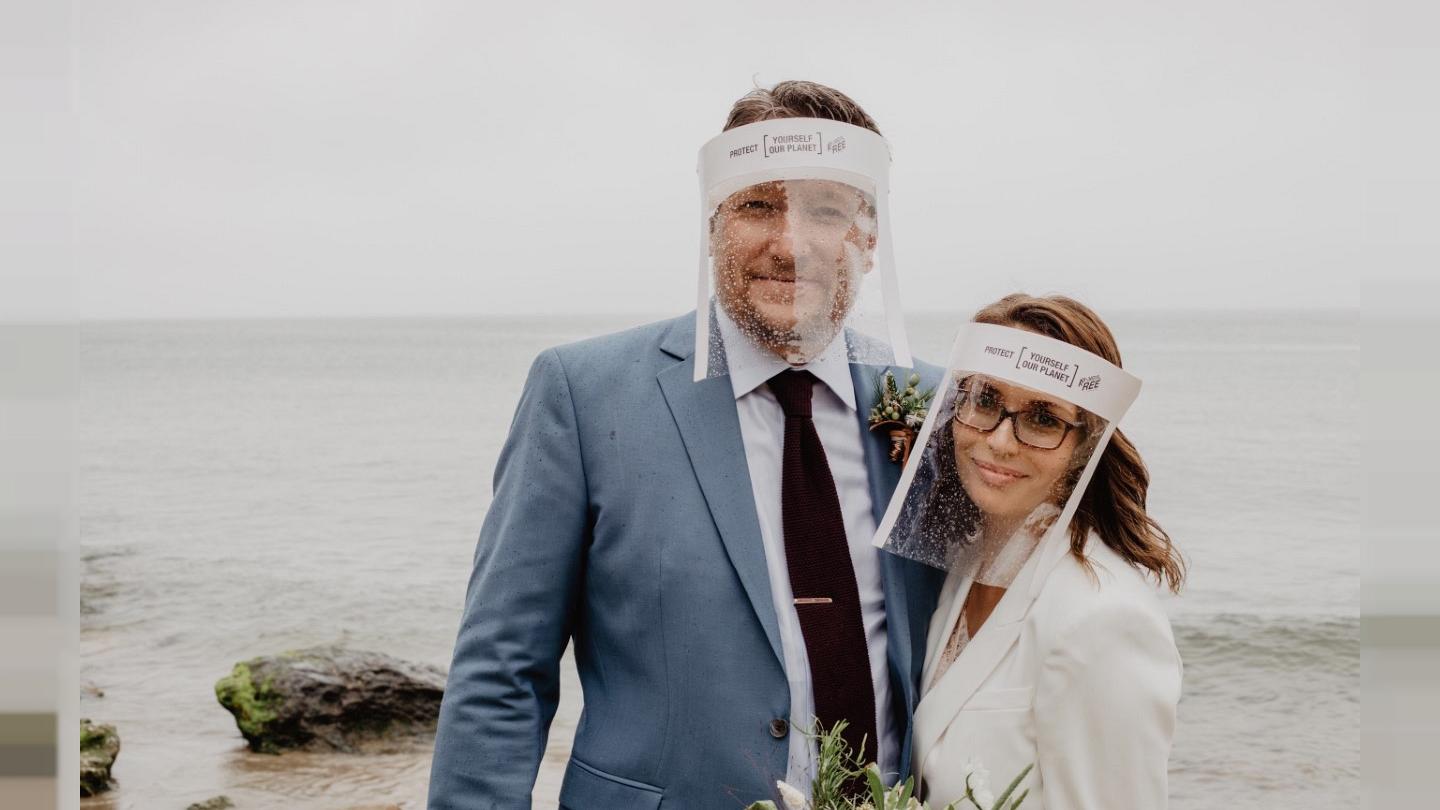 Every professional is responsible for protecting themselves while doing their job.
Whether you're doing indoor or outdoor shoots, the use of safety gear will be important. In some instances, you will be getting close to other people and the maintenance of sufficient social distance will be impossible. Luckily, protective tools and supplies are readily available.
Wearing a clear plastic shield that covers your entire face is recommended. When looking for such an item, make sure that it is crafted out of high quality materials. Otherwise, you will experience some visual distortion that will keep you from having a clear idea about what you're shooting.
Latex gloves are another good choice for photographers and videographers. You'll be touching lots of surfaces while handling your pre-shoot setup. A general rule of thumb is to replace the gloves frequently. You should also remove your gloves and wash your hands before taking down protective gear like a face shield or a mask.
And finally – bring lots of disinfectant. There are spray-on, lightweight disinfectants that are an excellent choice for wiping surfaces clean and making sure that your equipment is germ-free. When looking for such products, get the ones that contain at least 60 percent alcohol for an optimal effect.
Make Safety Gear a Part of the Wedding Photo Shoot Itself
The biggest issue you'll face is wedding attendees being reluctant to wear masks while they are being filmed or photographed.
If you are doing an outdoor shoot, taking off the masks could be ok (depending on local regulations and specific requirements at the venue itself).
Masks themselves, however, could easily be turned into a part of the wedding experience.
Talk to the bride and groom about the creation of custom masks for their special day (that guests could take home as wedding favors later on).
Creating video and photos using these masks will only contribute to the authenticity of the day and the shoot. In addition, sticking to such lovely protective accessories will keep everyone on the safe side.
Do Some Equipment Modifications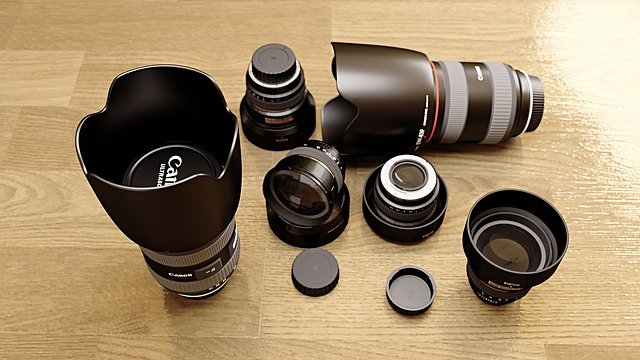 Some photographers and videographers have made a switch to longer lenses in an attempt to maintain social distance while shooting events.
Longer lenses allow you to compose a similar shot as what you'd usually create, without having to be as close to your subjects. Hence, if you typically rely on a 35mm lens, you may want to switch to a 50mm lens and a bigger distance for the same effect.
Obviously, some experimentation will be required to get the hang of it.
Practice with your equipment before the big day arrives. Making the switch during the wedding photo shoot itself, especially if you're not that used to the particular lens variety could be a recipe for disaster.
Apart from doing equipment modifications, you can also ask your clients about changing the typical shooting script.
Creating photos and videos of the entire wedding party helping the bride and groom get ready is not safe. Instead, replace these shots by more candid moments that are shared only with parents, the best man and the maid of honor.
Limit Physical Touch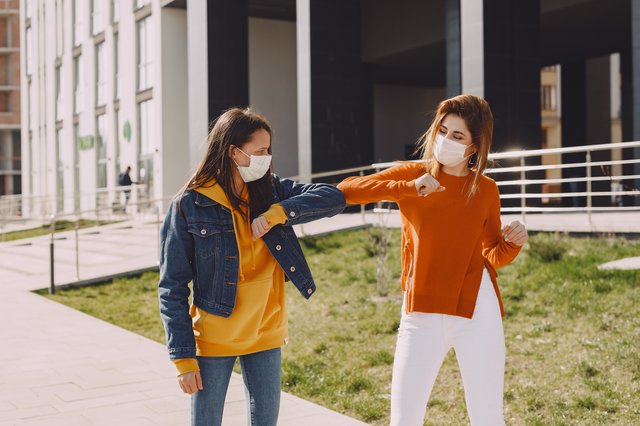 Weddings make people very open and comfortable with communication.
Hand shaking and even hugging professionals attending an event is not uncommon.
Right now, however, you have to give your clients a good idea about the level of contact you feel comfortable with.
It is for the best to avoid physical contact altogether.
Handshakes are not necessary. Introduce yourself to the wedding party verbally and before the ceremony starts. This is also a good time to acquaint people with your rules about social distance, talking to each other and touching.
You can coordinate such efforts with the wedding planner as the maintenance of sufficient social distance is in everybody's best interest. There could be signs, floor stickers and even little brochures on the tables that will give attendees a better idea about what's permissible and what isn't while the wedding is taking place.
Tackling Wedding Reception Challenges
While most people will adhere to the rules during the wedding ceremony, the reception is a different endeavor.
Most guests will let loose, some will consume alcohol. In such instances, the masks will potentially come off and some will become oblivious of social distancing rules.
It's up to the bride, the groom and the wedding planner to enforce the safety precautions at all times. As a professional attending the event, do voice your discomfort with such situations.
Shooting the reception itself creates some challenges that you'll have to overcome. Going on the dancefloor to capture some candid moments is obviously a no-go right now. Rather, you'll need to remain on the sidelines and find creative ways to capture special moments.
Again – rehearsing in advance is the number one essential for a good outcome. You need to have a floor plan, you need a good idea of where the dancefloor is and how you could position your equipment for proper access to all areas without breaking social distancing rules.
Safety Measures Show Respect!
Some inexperienced photographers and videographers could feel reluctant and hesitant about enforcing measures while the Covid-19 pandemic. If you are one of these professionals, you shouldn't lower standards just because you're worried about booking shoots.
Maintaining safety measures right now shows respect for everyone involved in an event.
The vast majority of clients and wedding parties will honor your boundaries, no questions asked. In fact, they should be the ones making the rules clear right from the start.
Any time you feel at risk or uncertain, you should either discuss the specific issue that's troubling you or you should walk away.
It's also a good idea to make a publication on your website about your work terms and conditions during the Covid-19 pandemic. This way, potential guests coming to you will know exactly what to expect.
Creating outstanding wedding photos and videos is still possible, especially if you use your imagination and you adopt a more flexible approach. Don't be afraid to put your safety first and to work around it with clients. This way, you will get to attend numerous events without jeopardizing yourself or anyone else involved in the process.
Looking for a wedding video editor?
Get a free quote within 24 hours!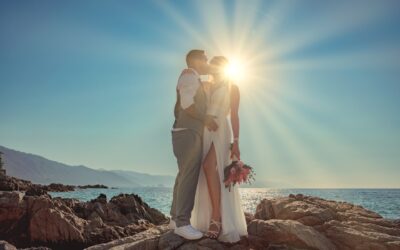 It's not just wedding clients looking for the ideal photographer or videographer. Professionals have to go through the same process in order to book events consistently. So, do you know who your ideal client is? Even more importantly, do you know how to reach out and...