At a time of social distancing and anti-Covid-19 measures, wedding ceremonies are not what they used to be. Hence, the wedding video production essentials have also changed. Professional in the field have to adapt to the new situation and offer clients adequate solutions.
While life is slowly getting back to normal, huge gatherings and celebrations are still not possible in many parts of the world.
People are now getting married in the company of family and just a few friends. Still, there are many others who would also want to witness the special day.
Live streaming provides such an opportunity, enabling numerous people to watch the ceremony live as it unfolds.
As a videographer, you should be prepared for the opportunities and the challenges that come with live streaming. Wedding video production essentials do change in this instance and you have to come up with a preliminary plan to deliver an optimal outcome.
Wedding Video Live Streaming
Doing a live stream is not the same as recording video, editing and engaging in post-production before giving the clients access to the finished product.
Everything captured by the camera will be broadcast live online. Hence, you need to know exactly what you're going to be shooting, you need to be familiar with the venue and you also have to complete a couple of preliminary steps to avoid disaster on the wedding day.
The first and the most important thing to do is make sure you have reliable internet connectivity.
A live stream is broadcast online as events unfold. Any glitch or issue with the internet connectivity will prevent viewers from witnessing some of the most important moments.
You will also need an internet-enabled device to capture the video and broadcast at the same time. In this sense, a live stream is typically created with a smartphone or a tablet.
Depending on the situation, the time of the day when the wedding is taking place and the venue, you may need some additional equipment to ensure the quality of the footage. Such equipment usually consists of a tripod for the device, additional lens (most smartphones and tablets do have compatible optical equipment that improves the quality of the footage) and external lights.
Familiarise Yourself with the Venue and Do a Test Run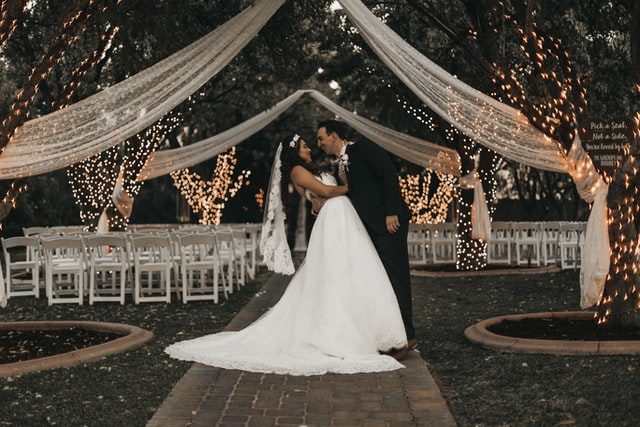 When capturing video for a live stream, you have just one chance to get it right.
It's not a good idea to experiment or get comfortable with the venue on the wedding day itself.
Arrange a preliminary visit instead. It's best to have the bride and groom attending that session, as well.
Use the opportunity to understand the specifics of the venue, the light conditions and the amount of space you have for moving around. Ask the bride and groom to stand exactly where the ceremony is going to take place. Experiment with a few angles and positions to determine how the best footage can be captured.
If necessary, visit the venue one more time before the wedding to position your equipment. Leaving everything for the last minute is a recipe for disaster.
Choose a Streaming Platform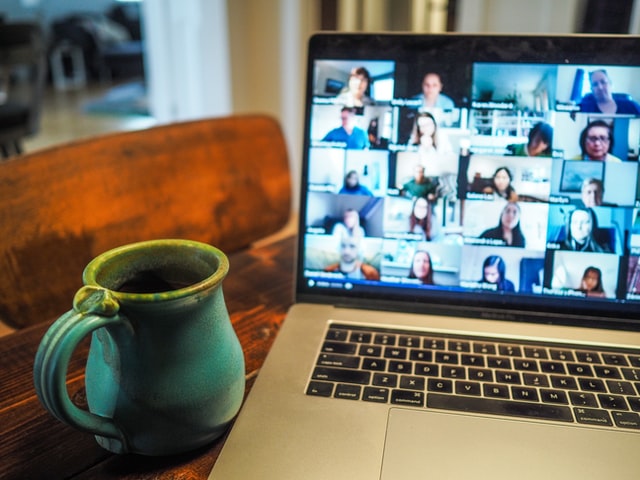 The next important thing you'll have to determine is the video streaming platform you're going to use for the live broadcast.
If the bride and groom are seeking a free opportunity, Facebook Live will be the best way to go. For the purpose, you'll need to create a group and invite the people who'll be witnessing the wedding remotely to it.
Apart from Facebook, however, there are several other great live streaming options worth exploring:
YouTube Live: another free platform that enables you to schedule a live stream and broadcast at that time. There are several advantages to choosing YouTube. You can have unlimited viewers and people wouldn't have to sign up for anything in order to witness the stream. The problem with YouTube is that introducing privacy restrictions is a bit more challenging than in the case of using Facebook.
Zoom: since the start of the Covid-19 pandemic, Zoom has turned into the go-to opportunity for live streaming and video conferencing. A Zoom broadcast occurs on a private cloud, which means you're in control of who's viewing your stream. If you choose the platform's free version, you will be limited to a 40-minute broadcast and 100 viewers. Zoom also offers a paid plan that's fairly affordable and that will lift all limitations.
Skype: you can have up to 50 people viewing your live stream for free on Skype. If a smaller wedding is taking place and needs to be live streamed, Skype can be a good choice.
Vimeo: invite an unlimited number of guests for free to the live stream. There is also a premium version that features more functionalities and better control over video quality/stream characteristics.
A Few Alternatives
While these are the main platforms used for high quality video streaming, there are a couple of alternatives to employ for successful wedding video production.
Google Hangouts has lost some of its hotness lately but it's still a prominent and usable option. A free hangout, however, can only include 10 viewers. If you want a bigger number of attendees you'll have to pay the premium price.
Periscope is a social platform entirely dedicated to live video streams. The app is completely free and it's compatible with both iOS and Android devices.
Finally, you may want to opt for a specialised solution.
Wedfully is an example of such. It's advertised as a concierge platform. Wedfully uses Zoom to stream but it gives you better control over guest access to the live stream (plus some technical support). There are even opportunities like virtual live stream rehearsals included in the package but keep in mind that the solution is pretty expensive in comparison to the other platforms.
Live Wedding Video Production Tips and Ideas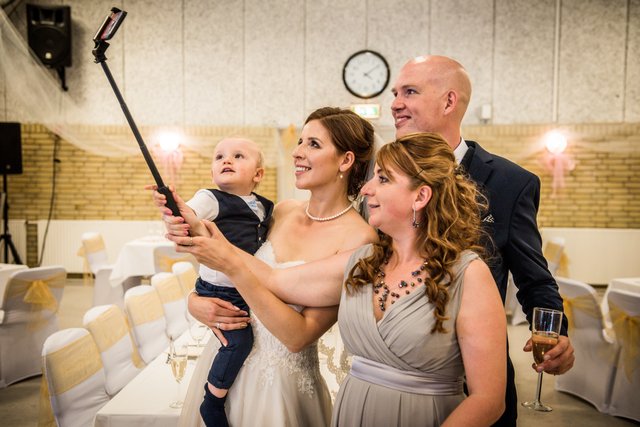 What happens on the day of the wedding is incredibly important if you want an impressive live stream.
There are several essentials to keep in mind as far as live wedding video production is concerned.
For a start, there needs to be a schedule of events that are going to be broadcast live. Streaming the ceremony is an obvious but there are some additional kinds of footage to broadcast – the wedding preparations, the emotional moment with the parents after the end of the ceremony, the first dance, etc.
It's also essential to go live with the stream at least 10 minutes before the actual ceremony begins. Use the first few minutes to test the video and the audio. This preliminary footage will also enable viewers to make sure their device has all of the right settings for an optimal viewing experience.
Do remember that you have just one chance to capture and broadcast all moments of importance. There is no editing and post-production here. Shaky footage, getting distracted and missing a particular moment can completely ruin the experience of viewers. Stick to the preliminary plan and set up your shooting locations in advance.
Whenever live streaming is taking place, there will typically be at least two videographers attending. While one person is broadcasting online, the other will be capturing the wedding in the traditional way to give the couple of splendid wedding video in the end.
Have Fun with Some Quirky POVs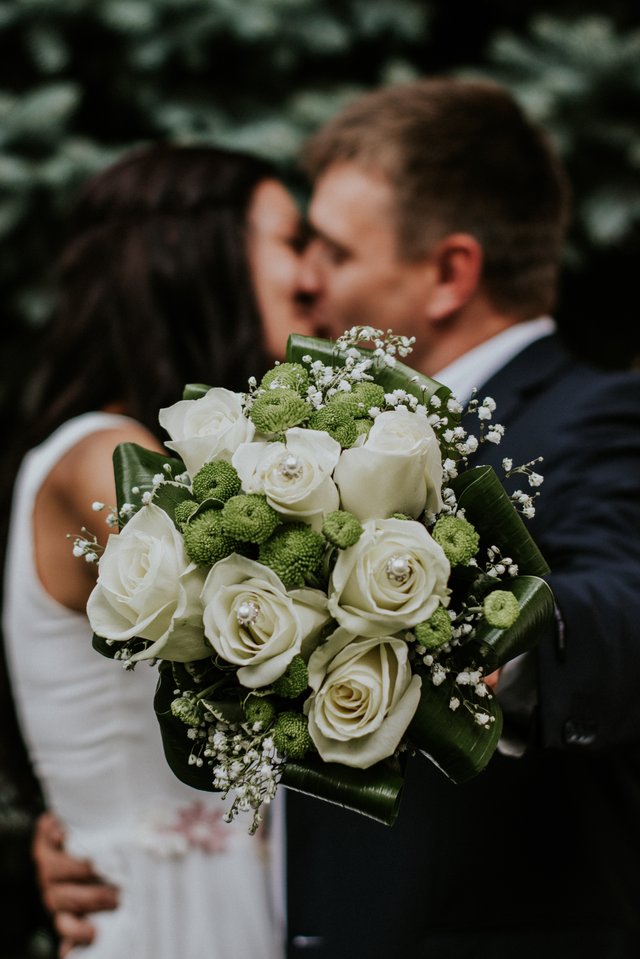 A professionally-captured ceremony is great but experimenting with some alternative points of view will help the viewers become completely immersed in the atmosphere.
Hand over the filming device to the bride and groom. Let them address the people who are observing the wedding from a distance. They will also get to show their perspective by being in charge of some of the footage.
You can also hand over the reins to the parents or the wedding guests. Such experiments can result in some truly raw and authentic footage that the viewers at home will have a ton of fun with.
Again – do not improvise with such approaches. If you plan to feature alternative POV footage, discuss that option with the bride and the groom in advance. Don't assume you know what they want or that they'll be happy with the particular outcome you've produced. Make sure all creative approaches get their approval in advance.
Think about the Audience!
Live wedding video production should be created to give the audience a chance to "attend" the event from a distance.
Close-ups, candid shots and a scenic presentation of the venue settings will allow those who can't attend to feel included in the ceremony.
Having the bride and groom addressing these people is another great idea. They can say anything to make remote guests feel appreciated.
Finally, some platforms may allow for active virtual participation in the form of audio input from the audience. There could even be an option for people at home to turn their own web cameras on so that the bride and groom can see the faces of all the attendees.
Modern technologies create many amazing opportunities for setting up the perfect wedding ceremony. In order to yield an optimal outcome, however, these technologies should be used in the right way. Doing a test run, exploring all features and going over every single detail in advance will help for the creation of a spectacular wedding video live stream that everyone is going to enjoy.
Looking for a wedding video editor?
Get a free quote within 24 hours!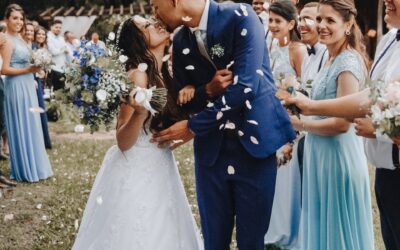 If you're not using Instagram for wedding photography marketing (or for videography promotion), you're missing on a lot. Highly visual, this social network attracts a youthful audience that can easily be influenced through the right content. And if you are on...