To give your clients a consistently good service, you need to update your arsenal of tools regularly. Wedding videographers can rely on various phone apps to do a better job, manage the experience of clients and even to do some basic video editing.
What are some of the best apps that every wedding videographer should have? We'll take a look at some of the top digital developments right now.
Sun Surveyor: A Useful Tool for Every Wedding Videographer
Available for: iPhone, iPad, Android Devices
Price: 6.99 dollars
What does it do: predicts the position of the sun and the moon
While this app obviously isn't an essential, it can make the job of a videographer so much easier!
Sun Surveyor predicts the position of the sun and the moon for any place on the planet and for any time of the day. This way, wedding videographers can plan their shoots in the best possible way and make good use of natural light.
The app also has a 3D compass, interactive maps and street view – handy features for people who need to travel and attend ceremonies at various venues.
FiLMiC Pro: Enhance Phone Footage
Available for: iOS devices
Price: 14.99 dollars
What does it do: improves the filmography qualities of the phone or tablet
Capturing video with a phone or a tablet is an essential every once in a while. There are ways to improve the qualities of an iPhone and FiLMiC Pro happens to be one of the best apps for the purpose.
Through the installation of the app, you get better control over audio, zoom and frame rates. Manual and hybrid shooting modes are available to meet the skill level of just about any videographer out there.
FiLMiC Pro has an array of customizable preset stabilization, resolution, video encoding level, etc.). The number of controls is even higher for iOS 8 devices. These benefit from over exposure control, focus, white balance adjustments, shutter speed, cold temperature modifications, etc.
The app supports Apple Watches, which is one final cool characteristic to mention.
Action-Director: Editing on the Go for a Busy Wedding Videographer
Available for: Android devices
Price: from free plans to 4.99 dollars per month
What does it do: A powerful video editor
ActionDirector is one of the most popular editing apps. Its biggest downfall, however, is that the tool happens to be solely available for Android devices.
While an app doesn't have the full range of post-production features required to create high quality wedding videos, ActionDirector is a good choice for a few quick edits on the go.
The app supports fast and slow motion, it features a range of filters that can be applied to the footage and several core editing functionalities. It allows a wedding videographer to cut frames, put footage together, import and export files.
ActionDirector also brags over a dozen transitions, animated stickers, the ability to add text and subtitles, the addition of music from the device's library and background music mixing.
InfiniFX: Filters and Effects for Wedding Videographers
Available for: iOS devices
Price: 1.99 dollars
What does it do: A great library of filters and effects that can be applied to photos and videos
InfiniFX is another beneficial on-the-go option you can rely on to enhance your wedding video footage before moving on to professional post-production.
A wedding videographer can use InfiniFX to add artistic contour, blur, color changes, color overlays, edges, glow effects and various others to the footage.
The app's catalog features 23 base effects that can be combined or tweaked.
This app is another tool we wouldn't call an essential. Still, it can help a videographer boost the creative appeal of their work quickly and efficiently.
Cine Meter II: Proper Light and Color Management
Available for: Android and iOS devices
Price: 24.99 dollars
What does it do: light and color metering
While Cine Meter II is somewhat expensive in comparison to the other apps featured here, it can provide a wedding videographer with some pretty invaluable information.
Cine Meter II is a light and color meter, giving a videographer a much better idea about the shooting conditions. The right equipment can be selected on the basis of this information to give clients an impeccable outcome every single time.
The app offers a zoomable spotmeter with an RGB waveform monitor. The color meter reads the color temperature in kelvins and green / magenta tint in Wratten / CC values. Correction to or from the target temperature is also made available.
Cine Meter II is the successor of Cine Meter and it has several new features added to the toolbox. These include waveform monitoring, false color display, shutter angle setup, ND filter compensation and arbitrary filter factors.
The app is incredibly lightweight because it does not use any of the data on your phone. In addition, Cine Meter II does not require internet connectivity to operate.
Easy Release Pro: Deal with the Legal Side of Things
Available for: iOS and Android devices
Price: free to 9.99 dollars (in-app purchases)
What does it do: creates release forms
The final app for wedding videographers is completely different from the other entries in the list but it's still incredibly important.
Easy Release Pro, as its name suggests, can be used to create release forms.
Many wedding videographers believe they don't really need to get any of the participants in the "film" to sign a release form. This isn't necessarily the case.
A release form is an agreement between a videographer and their subject pertaining to how the video is going to be used in the future. Thus, if you want to feature a particular wedding video on your website and use it for marketing, you'll need to get the bride and groom and the guests to sign release forms.
Dealing with the administrative and legal sides of wedding videography isn't pleasant but it's essential.
Easy Release Pro creates release forms that follow both industry and legal standards. The app supports multiple languages and it offers integration with Dropbox and Google Drive. While the app is predominantly targeting photographers, a few simple tweaks make it great for wedding videographers.
There's a massive range of apps on the market and it's up to you to determine which tools can help you best. Be discerning, especially when it comes to paying for videography apps. Most tool developers promise amazing results but only a few deliver. Reading reviews and checking out demo versions can help you pinpoint such apps.
Looking for a wedding video editor?
Get a free quote within 24 hours!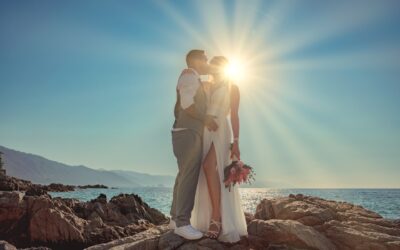 It's not just wedding clients looking for the ideal photographer or videographer. Professionals have to go through the same process in order to book events consistently. So, do you know who your ideal client is? Even more importantly, do you know how to reach out and...