Nailing your engagement video shoot involves a few steps. The first and most important one is to have a ton of fun. Apart from the obvious, however, you'll have to go through a few considerations.
While an engagement shoot is a lot more casual than creating your wedding video, you'll still need to pay attention to some details.
At the same time, you'll have to strike a fine balance. There is a fine line between being prepared and over-directing things to an extent that the entire video looks fake and staged. Your videographer will guide you through the process and provide pointers. As a couple, however, you'll also need to be prepared for the upcoming sessions.
What Is the Engagement Video Shoot?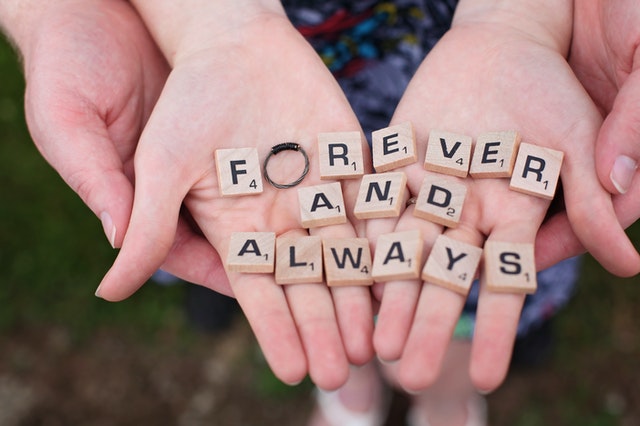 To prepare for your engagement shoot, it's important to understand what it is.
An engagement video is a short clip that "tells" the story of your love. It can create a nice memento, a keepsake that shows your journey and the road you had to take until becoming a married couple.
Couples have a lot of freedom in terms of planning the engagement shoot.
It can be a beautiful walk at the beach, a quick presentation of a favorite activity or a little story that you tell in a specific way. If you have a very specific idea about the video and its elements, talk to your wedding cameraman. They will give you some useful pointers about the right way to execute the vision.
Engagement shoots are usually casual and a lot of fun. The clip itself is going to be brief – spanning only a few minutes at most. This means that the session itself isn't going to last more than an hour (in most cases, it's a lot briefer than that).
Some couples use engagement videos as teasers for the upcoming wedding. Some share them online or simply keep them as something very personal and intimate. It's really up to you to decide how you're going to use the video. If you have some specific use in mind, talk to your videographer about it. Very often, the outcome will be dependent on the filmography and video editing approach. That's why the professional you're partnering up with will need to have at least some idea about what you're trying to accomplish.
Getting Dressed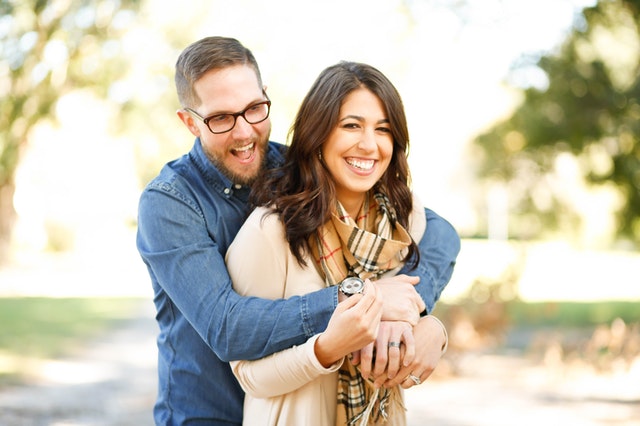 Clothing is obviously one of the first things you'll think about when getting ready for an engagement video shoot.
And while putting on some nice clothes will be important, it's also essential to feel comfortable throughout the session.
Do choose some favorite outfit you'll feel comfortable with. Also, discuss clothing options with your significant other. A bit of visual consistency is required to give the video beautiful aesthetics. Thus, if you're going to put on jeans and a shirt, it may be a good idea for your partner to select a similar style.
Also, make sure the outfit you select is appropriate for the venue where the shoot will be taking place. If you're filming at the beach, putting on a ball gown is obviously not the best idea. Sure, you'll look beautiful. A bulky gown, however, will restrict your range of movement and reduce your ability to have fun during the shoot.
Choose a Meaningful Venue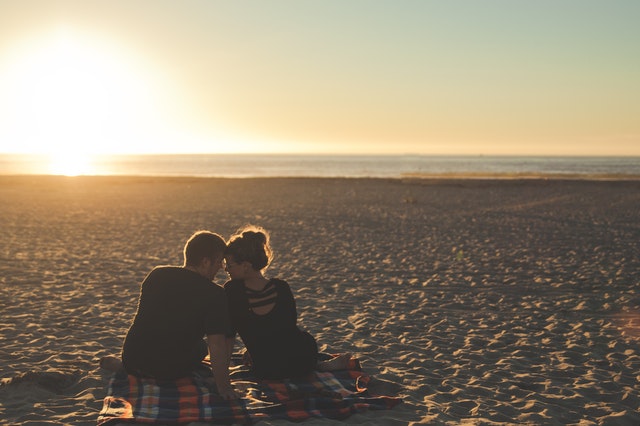 Very often, couples will select an engagement video shoot venue because of its beauty.
There's nothing wrong with such an approach towards venue selection.
Still, there's one additional consideration.
If you're thinking only about aesthetics, there's some risk of the video looking a bit superficial and shallow. That's the reason why you may want to dig a little bit deeper.
Pick a venue that holds some meaning in your love story and that can add to the complexity of the shoot. The park where you had your first date, the neighborhood where you first shared a home in – these places tell something important about your relationship.
Once you choose such a meaningful venue, let your videographer know. They will usually visit the location in advance to determine if it's appropriate and to also make sure they have the right equipment for the shoot.
Rehearse a Bit (but Not Too Much)
Most people aren't naturals in front of a camera.
If you're one of these individuals, you probably want to work on your preparedness.
Many couples will be nervous about their engagement video shoot and they'll spend many hours rehearsing dialogues, specific shots or scenarios.
Having some idea about the general direction you want to take the shoot in is nice. Coming up with a backstory can also help for the creation of a cohesive little story.
Taking too much time to rehearse extensively, however, will most often bring on a negative outcome.
You're not an actor or a film professional. As a result, your rehearsals will make you look fake, even a little bit robotic. An engagement shoot can benefit from a lot of spontaneity. It will capture the little gestures of love and affection between you and your significant other. There really is no way to rehearse such proximity and closeness.
Try to be yourself and to take as little notice of the camera as possible. This is your opportunity to get comfortable before the wedding shoot. Use it to your advantage and take the time to familiarize yourself with videography and to start feeling a bit more comfortable about it.
Decide if You'll Be Using Props or Doing Activities
Some engagement video shoots are very clean and minimal in their approach towards cinematography. Here's one example:
In other instances, however, doing a favorite activity or utilizing some props can add a bit of color and dynamic appeal to the final outcome. Let's check an example of such an engagement video:
This video tells a story and there's some dialogue included, not just musical background. Also, the car is used as a prop and a storytelling vehicle that propels the idea of the video forward.
Both of these approaches towards the creation of an engagement video are perfectly fine and beautiful. Choosing one or the other is all about telling your own story in the most authentic and honest way possible.
If you want to use props or do a favorite activity together, you can definitely do so. Just think about the information you're revealing through the choice and whether it will make filming more difficult.
Be Prepared for Some Surprises and Unusual Circumstances
While you probably have a very specific idea about what you're trying to accomplish, it's essential to understand that things don't always go according to plan.
Sometimes, the activity idea you have for the engagement shoot isn't going to work out. The weather may also be uncooperative, especially if you decide to do an outdoor shoot.
Don't let these circumstances ruin the experience for you. Be prepared to improvise and enjoy the process, no matter what happens.
The unforeseen circumstances can actually create opportunities for a more genuine and exciting shoot. The trick is to go with the flow. Don't let the unexpected event destroy the mood. Roll with the punches. If it suddenly starts to rain, incorporate that experience in the shoot. You can end up with a very emotional and endearing clip that you'll continue watching with excitement in years from now.
Get Input from Your Videographer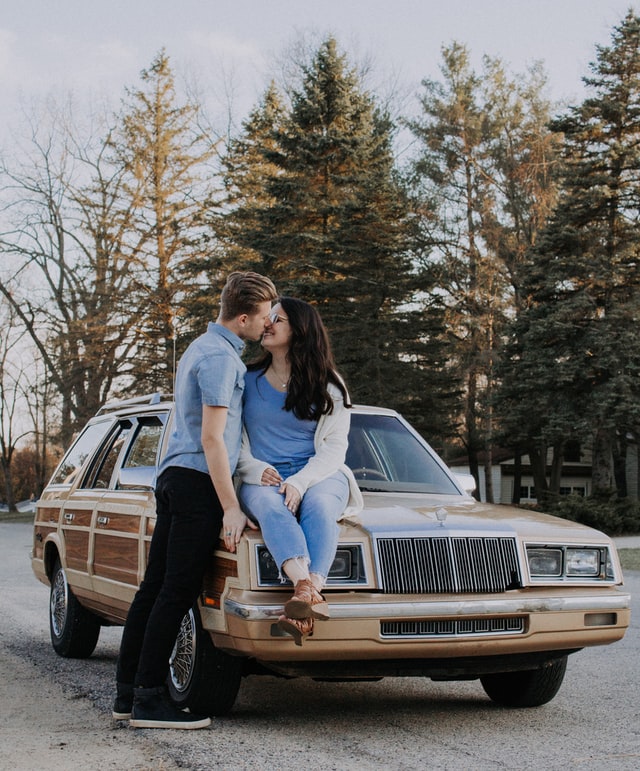 While you are the director and the star of your engagement video shoot, your videographer will also play an important role.
This professional (hopefully) has a lot of experience with shoots like yours. Thus, they can provide invaluable input about the ideas that are going to work and the ones that will potentially miss the mark.
Maintain a bit of flexibility while filming your engagement video.
Chances are that your videographer has a way to make the concept or the execution better. Keep an open mind and listen to their input. Do ask for directions when you're not certain about the way to get the desired outcome. If you put the feedback into effect, you will probably be very happy with the result.
The creation of an engagement clip should be a collaboration between the couple and the videographer. Make sure that your voice is heard but do listen, as well. The fact that your cameraman is making an alternative suggestion doesn't mean they're putting your idea down. Chances are that they know how to give you a better result or they're simply trying to pull you away from a concept that isn't going to work.
So, How Do I Prepare for My Engagement Video Shoot?
This is one of the most common question that wedding videographers get.
The answer is simple – come up with a concept, focus on a few details but don't overdo it. Having fun and improvising will often give you a much better outcome than attempting to control every single part of the shoot.
Also, do your best to work with the videographer. This is your chance to create a good partnership between the big day. Use the engagement shoot as a test run. If you're unhappy with any aspect of it, talk to your videographer about your improvements. This way, you can make sure everything will be perfect during the wedding ceremony.
Looking for a wedding video editor?
Get a free quote within 24 hours!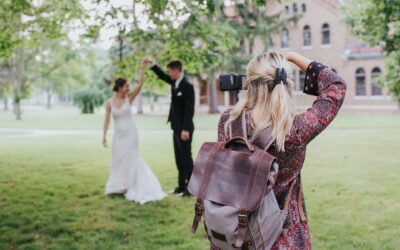 Maintaining your videography or wedding photography business as off-season arrives can be tricky. You know all too well that wedding events tend to be concentrated during certain months of the year. After this golden period is over, you'll see business going down...